:::::: Week Ten….. AMEN ::::::
This week was successful! The children are LOVING the job chart and are asking for specific jobs. They are even remembering their own job, which means it's meaningful to them. We started working on the letter and sound of "E" this week. Starting next week we are going to go a little faster. I have been spending 2 weeks on each letter. I will start spending a week and a half on each one so we can get through them all. They are doing well on the letters and sounds. I am happy.
Here is a little peek into our week.
Monday
New Play dough - Thank You Mrs. Wang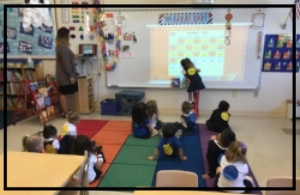 Music Monday with Mr. Jim
Cutting Practice and cooperative play.
It's so fun to hear them using their imagination
Using our "pinchy fingers" to find Halloween mini erasers in colored rice.
It's Princess Dress up Time
Making Spooky Bat Silhouettes
Thanks for checking out our classroom web page!
Till next week …..